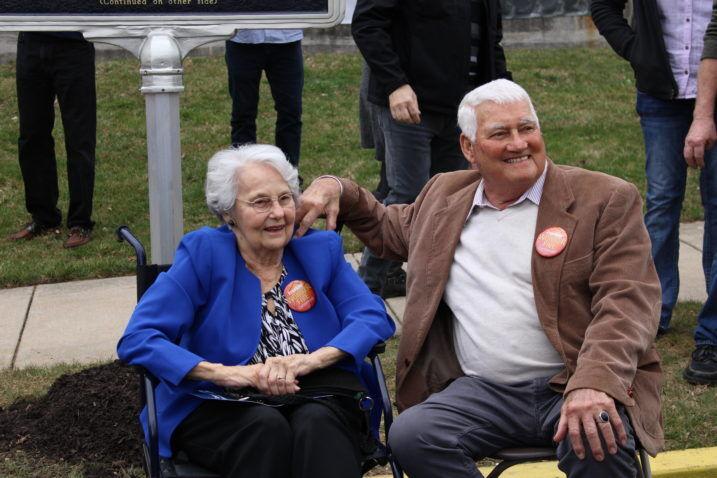 Historical marker commemorating 100-year anniversary unveiled
By Britany App
Britany.App@franklincollege.edu
One hundred years after the Franklin College "Wonder Five" began their legacy, descendants of the Indiana basketball legends gathered to commemorate their ancestors with a historical marker.
The unveiling of the marker began with a service at the Johnson County Museum of History on March 12. Museum officials opened an exhibit on the Wonder Five team, set to be open until mid-October. The exhibit showcases artifacts and memorabilia that express the Wonder Five's journey and impact a century later.
The event continued at the Franklin College Fitness Center, where the historical marker is located. An abundance of descendants, on-lookers and members of the current Franklin College basketball team gathered around for the big reveal. Together, Franklin College President Kerry Prather and Johnson County Museum Director David Pfeiffer uncovered the Wonder Five's historical marker.
Making reference to Meredith Clark-Wiltz, a Franklin College history professor who coordinated students to help with the marker, Prather said he was honored to welcome spectators as the college's most recent basketball coach.
"Meredith] said the only thing that could've made this better would've been if a basketball coach became president," said Kerry Prather, President of FranklinCollege, "so I'm more than happy to be a product,"
Who Is the Wonder Five?
The Wonder Five are a group comprised of fourteen young Franklin basketball players from the 1920s.
The first eight wonder five members were those who started it all: They made up the team who went on to win the first high school state championship of three for Franklin High School.
These eight talented players consisted of sophomores Robert 'Fuzzy' Vandivier, Johnny Gant, and Ralph Hicks, junior Harold Borden, and seniors Paul White, Burl Friddle, Harvey 'Pete' Keeling and Sima Comer.
Seniors Keeling and Comer had both just returned to Franklin High School after taking a year to serve in World War I. Keeling was nominated to be team captain upon his return for the 1919-20 season.
The next year, six more players were added to the Wonder Five. Freshman Charlton 'Butter' Williams, sophomores Jimmy Ross, Harry King, and Hubert Davis, and juniors Carlyle Friddle and Ike Ballard.
Despite losing four of his five starters from the previous year, Coach Wagner integrated this new group of players into the team and lead them to another state championship title. This team was starting to become "a small-town legend," said Franklin College junior Samantha Loyd. Loyd is one of the students who helped bring the marker to campus.
Unlike the season before, the team only lost one of its members. Borden, due to graduation. However, there was some terrible news to come.
Devastating News
Gant, a senior, had been experiencing recurrent back pain during the last season and was found to have been suffering from a spinal hemorrhage. He had to give up playing basketball his senior year but was asked by Coach Wagner to be an assistant coach so that he didn't have to give up basketball entirely.
However, this was not the end of the bad news to befall the 1920-21 team. Davis, a junior, had to drop out of Franklin High School all together. Davis had been experiencing problems with his hearing for the past few years and had to go to New York in order to be treated and have surgery to improve his hearing.
Although the team had now lost three former players, they were determined to keep the winning streak alive. Under the leadership of talented senior Fuzzy Vandivier, the Franklin High School team went on to win their third straight state championship. But some of these young players were just getting started.
Under the guidance of Coach Wagner, six of these extraordinary players went on to play for Franklin College after graduation. Vandivier, Burl and Carlyle Friddle, Ballard and King all played for Franklin College. Gant, the sixth member of the Wonder Five, was able to heal his spinal hemorrhage and make it to Franklin College to play basketball once again.
Together this group won two consecutive collegiate state championships. No basketball team before them had ever done what this group had accomplished, and no one would repeat it for sixty years. They continued to inspire not only the Franklin community, but the rest of Indiana. They were a "truly historic team," said David Pfeiffer, Johnson County Museum director.
Leaving Their Mark
With five state titles, and a far-reaching reputation as a history making basketball team, it is only fitting that the Wonder Five are recognized with a historical marker in front of the Franklin College Fitness Center where they played for so many games.
"It will be a great reminder of the accomplishments of past Franklin College students as well as a reminder of the contributions of current and recent graduates," said Clark-Wiltz, who co-lead the project with David Pfeiffer.
Ten students in a public history course in spring 2019 pursued the historical marker under the instruction of Clark-Wiltz and Pfeiffer. Clark-Wiltz explained that this particular course always focuses on a project that has a community reach. Pfeiffer had suggested the idea for the marker due to the Museum's interest in celebrating the 100-year anniversary of the Wonder Five's first championship.
Loyd, who worked on the project last spring, said she was surprised to learn how many lives the Wonder Five touched outside of the school community.
"This really impacted the entirety of Franklin and really the whole state," Loyd said.
Dozens of descendants of the Wonder Five gathered to witness the unveiling of the marker and to see that "the stories of their families are not being forgotten," said Pfeiffer.
Two of the Wonder Five players, Burl and Carlyle Friddle — most commonly known as the Friddle Brothers — went on to become committed family men, impacting their children as much as they did Indiana basketball.
Carlene Friddle-Sutherlin, the daughter of Carlyle Friddle, had a very close relationship with her father. Some of her favorite memories of her childhood are those when her father would take her to the Art Craft Theater in Franklin where they would spend many happy days together. She was excited about the marker ceremony. Friddle-Sutherlin said, "I loved the event; I'm really proud of this. It honors my dad and my uncle well."
Burl Fiddle's son, Jerry Friddle, was also close to his father. They often spent time hunting and fishing. Friddle commented that his father was a very determined man.
"Do you see that picture over there? That's my dad." Friddle said. "He'd loved to have been here."