The city that never sleeps upholds that reputation in the eyes of rural college students. 
Seeing an abundance of homeless people, men in kilts for a Scottish parade, a gentlemen's club in Times Square, and the famous Midtown Manhattan's naked cowboy were certainly not experiences Franklin College students were expecting upon arrival.
"There was definitely a bit of a cultural shock," said Randall Smith, department chair and associate professor of political science.  
The Franklin College Model United Nations team received the award of Distinguished Delegation, the second-highest award given at the world's most extensive international simulation of the United Nations held in New York City. Teams competed directly against 2,500 students from colleges all over the world. 
Smith helped prepare the team's committees for concerns and issues present in their country of representation, Tajikistan.
"We dealt with the whole gamut of international problems, everything from arms control to the environment, human rights, and sustainable development," said Smith. "Everything that the United Nations touches, our students work with."
The team came up with the acronym that would put the values they would be representing at the forefront of their agenda: GREEN UNITED. It stands for Glacier Restoration, Education, and Employment Network for Uniting Nations to Impede Terror and Extend Democracy. 
Junior Andrea Rahman represented the General Assembly Third Committee, which focuses primarily on human rights issues.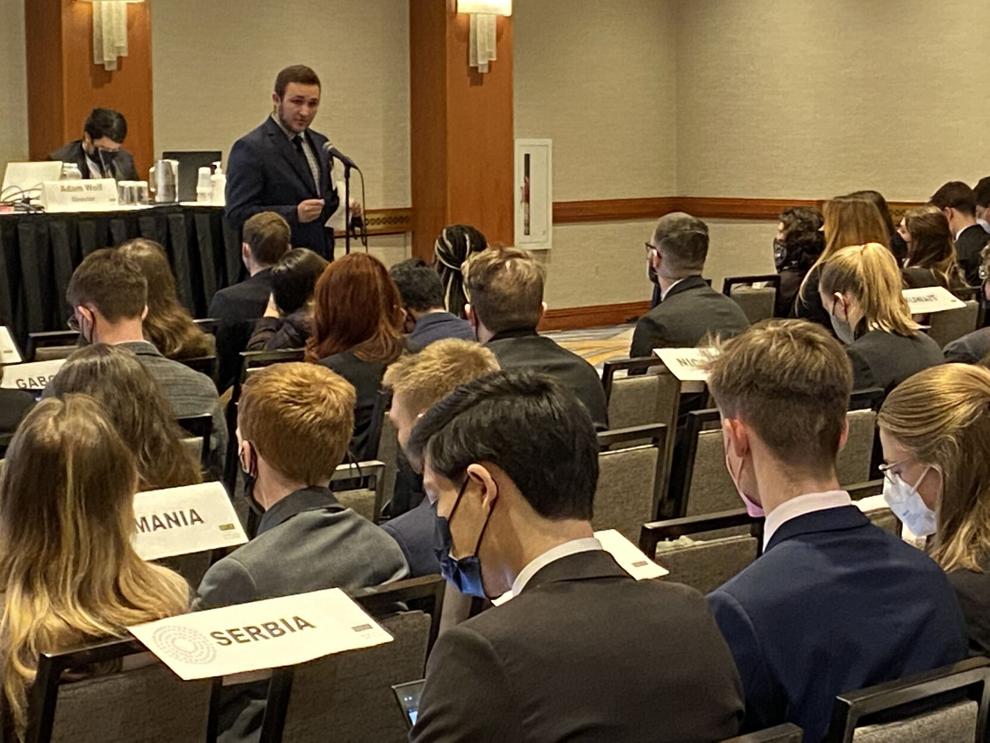 "It's exciting to go there, especially for the education part, because we made a system among the committees that are tightly woven together for different policies that we proposed and pushed for," Rahman said. "We have an acronym that everybody in the team has a piece of." 
Outstanding Position Paper 
Junior Annah Elliott and sophomore Bennett Hanson were awarded with Outstanding Position Paper by the conference for their presentation on the position of Tajikistan upon the topics facing the General Assembly Second Committee (Economic and Financial Committee). 
"It was really exciting to win the paper award just because we'd spent a lot of time doing it, and it was just such a big conference, and I didn't know if we were going to win, but that made me feel more confident in my writing and abilities because it was so nerve-wracking to turn it in," Elliott said. 
Smith specified that they struggled to get it together during the immersive term, but when it was time to turn that final piece in, they really had something special and were recognized for it. 
"You know, Bennett came up with the idea that the whole representation was built upon, and Annah helped refine that quite a bit," Smith said. "We built that out into the entire policy stance of Tajikistan at this conference. They knocked it out of the park. It was a strong representation." 
Team members said so much work went into immersive term for the team to succeed. Countless hours of preparation and setting the expectations and bar high.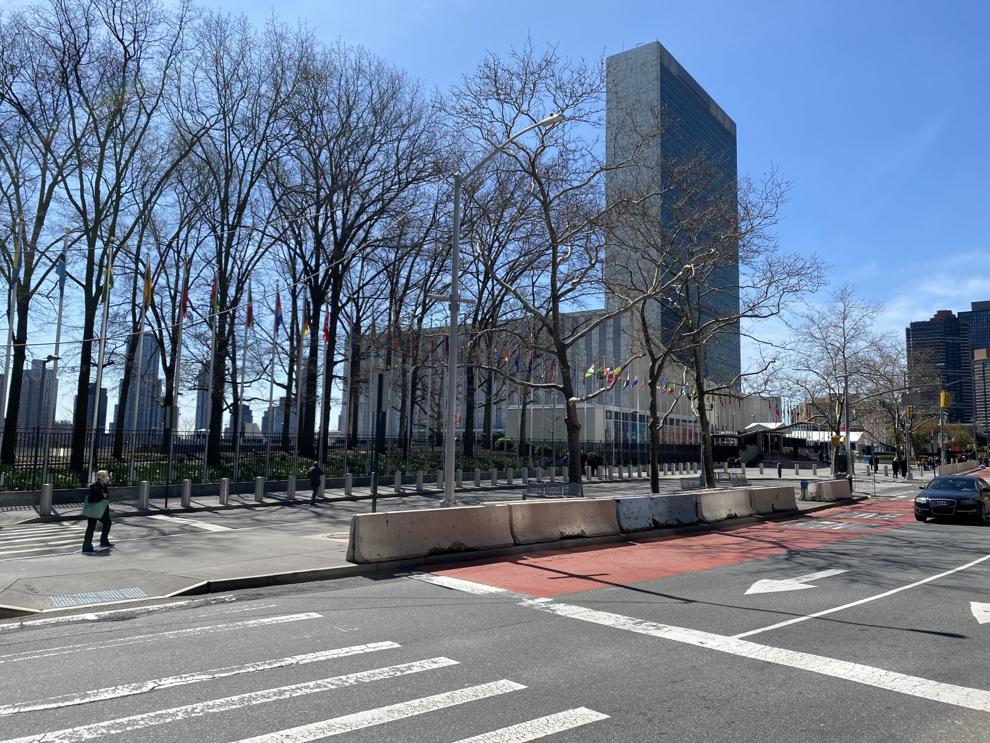 Freshman Cara Mullen, who is on the pre-law track, had never been to New York or even on a plane, for that matter. She has always been passionate about social issues and aspires to work in international law. 
"You know, we work really hard over J-term, other friends who are talking about playing chess for their immersive term class or building cool things with a 3D printer," Mullen said. "And it's like, 'Great! I've been staring at the same paper for like six hours every day for the past two weeks,' So it's a demanding course, but the experience was well worth it all."   
Members of the team said the overall experience was a blast, accounting for things that happened outside of the conference and takeaways.
"I'm so proud of the team overall. We put a lot of effort into making that happen," Gleitz said. "It wasn't just the trip; it was months of preparation before the trip. Some of those late nights in J- term, you know, being up to write those papers 'til like four or five in the morning."
Outside of the conference, food was the staple of the extra curriculum, New York style pizza, and international foods like authentic ramen and Pakistani food  because opportunities like those are few and far between at home. 
Mullen described Little Italy and the best Pastrami sandwich she has had. 
"Of course we had to go and get pastrami sandwiches. Sandwiches were very expensive. They were like $30, but well worth it paying for the experience," Mullen said.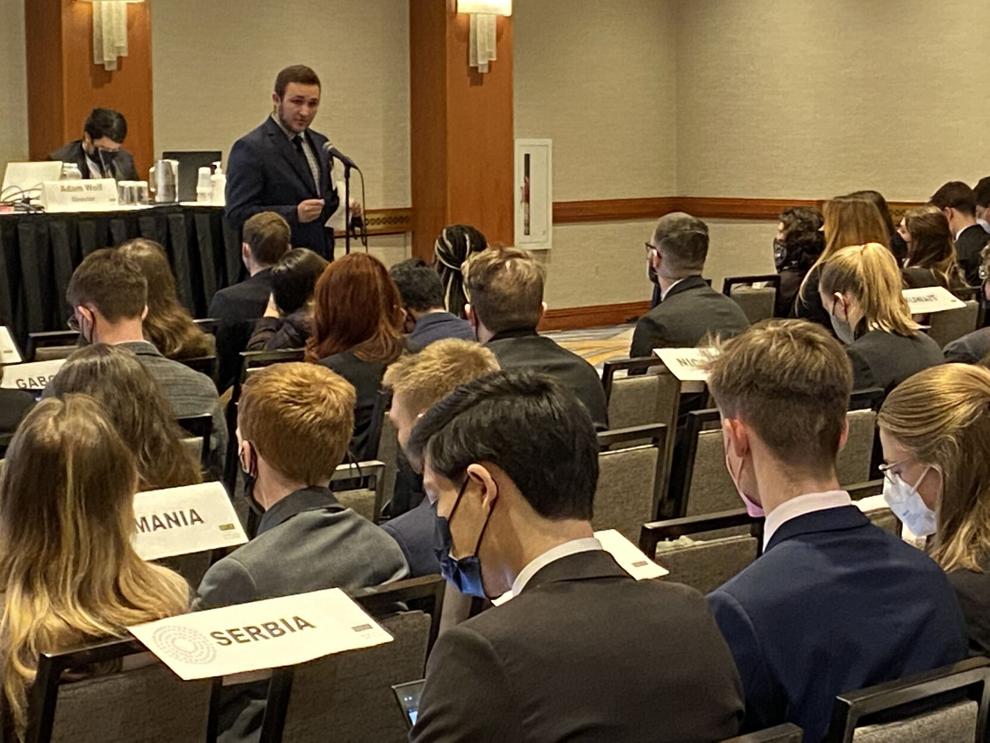 Junior Clayton Black, a member of the General Assembly First Committee, dealing with international security and weapons, advocated a major topic of concern for Tajikistan was IEDs, or Improvised Explosive Devices, because of the imminent threat of the Taliban. 
When Clayton Black was not writing papers and conversing with friends he made from Gonzaga, he took to the streets to be a tourist.  
Black made a lot of stops like the 9/11 Memorial, Central Park, Wall Street and talked with a fraternity brother from Columbia University.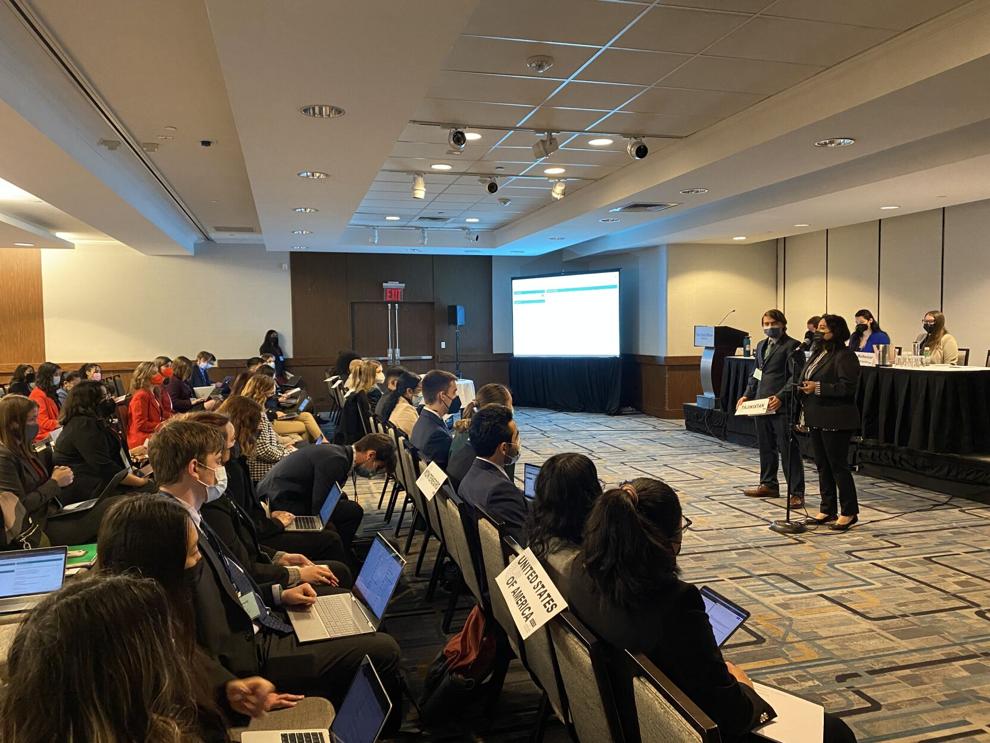 Outstanding Delegation
Senior Carolina Puga Mendoza and junior Isaac Gleitz were awarded Outstanding Delegation by their peers for their leadership and work within the conference. This is a prominent award, which required competing against colleges around the world such as Loyola Univeristy Chicago, Baylor University, and Paris Dauphine Univeristy-PSL to name a few.
Mendoza is currently working on her senior project that focuses on undocumented migrants. She is very passionate about the subject so it was no surprise that she was one of the first to volunteer for the International Organization for Migration Committee.  
Yet Mendoza took away a lot more than just an award. The student delegate took personal growth and came out of her shell when conflict involving another delegate arose. Mendoza and her peers view her as a passive person, always smiling and not quick to get heated.
"I, sadly, had to meet up with this person who raised a lot of problems through multiple people. He was interrupting us, speaking over us, and was very hostile in the way he introduced his ideas. I'm not a very outspoken person, but at that moment, I was not having it the way he was talking to some of my peers," Mendoza said.
In multiple instances, the committee's chairman called the delegate representing Montenegro out about his misogyny and disrespect; he happened to be a co-leader along with Mendoza in her group. 
Her accompanied delegate, Gleitz, also noticed a problem brewing.
"He put his hands on her chair and is like standing behind her, you know, kind of like a creepy villain type style. That's when I first knew this might or could go south," Gleitz said.
By being a leader in a stressful, unknowing, and uncomfortable predicament, Mendoza grew as a person, deciding she wasn't going to be on the sidelines anymore.
"I interrupted him; I stopped him right there and raised my voice, asking him to please let everyone else finish," Mendoza said. "He was actually reported for harassment. I never saw him again." 
Gleitz and Mendoza gave a short speech to the audience of delegates that voted for them to be awarded Outstanding Delegation during the closing ceremonies at the conference. 
"In the end we all know diamonds are formed under pressure. Delegates, we pooped out some diamonds yesterday," Gleitz said.
"When you get a hall of several thousand people collapse (in laughter), you know everybody, the tension built up to that moment," Smith said. "He makes the statement, and everybody chuckles, tension dissipates, and that was sort of a climax point."