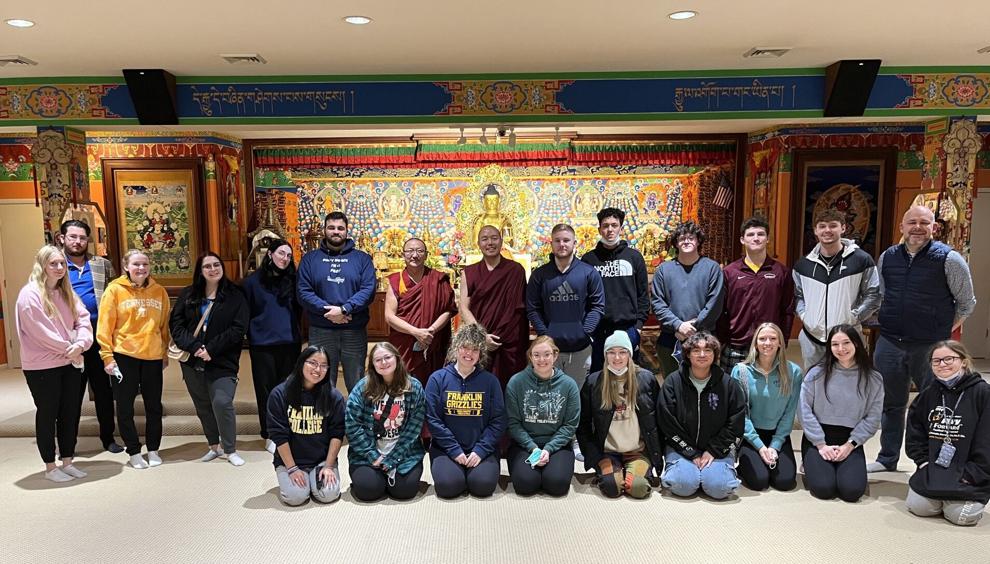 The natural stereotype of college students is that they're filled with stress, but what if building meditation skills could help?
Professor James Alexander created the course, Building with the Buddha, with this specific problem in mind, hoping it would give students the necessary time they need to relax and meditate, while also giving them the tools to gain marketable skills with technology. 
The course is structured by starting the day out with a group meditation. Students then spend time learning about Buddhist philosophy, ending each class with meditation as well. 
In an attempt to give students as much meditation time as possible, Alexander also requires students to use a meditation app at least twice a day.  The students try new meditation apps each week of the class, utilizing the free trial offerings of each application. 
"It is a class that kind of focuses on building in two ways. Students will be printing 3D objects, so they're learning about 3D-printing," Alexander said. "The second and I would say probably the fuller way in 
which we're building is that students are building their own meditation habits."
Combining meditation disciplines with technology, Alexander has students sign up for thirty-minute sessions at the Center for Technology and Innovation to print objects to meditate over. 
To help the students learn from a hands-on approach, the class travels down to Bloomington on Wednesdays to meditate with Buddhist monks at the Tibetan Mongolian Buddhist Cultural Center. 
In early course feedback, Alexander said his students have enjoyed the meditation aspect. 
"So far, students have really just appreciated having dedicated time and activities towards meditation. I think that's going to be the big takeaway for them, because a lot of students took the class because they wanted to have that time. They've always had an interest in meditation, and they're just like, you know, busy with college. It's tough to carve that time out," Alexander said. "They wanted that dedicated time and space. And the hope is that they build those habits and continue them into the spring semester."
Alexander had never been an avid meditation user prior to formulating the class. 
"I am very bad at meditation, but I enjoy it  a lot. I'm a father of three and my schedule never feels consistent," Alexander said. "Whenever I have time to myself, I'm not usually devoting it to meditation. However, because of this class, I have."
While not a meditation expert, Alexander has been studying Buddhist philosophy for 15 years. 
"I will say, my mind was really primed for it," Alexander said.
One of Alexander's students, Wyatt Taylor, is a freshman taking the class. He had never 3D-printed or meditated prior to this January. 
As a transfer student from IUPUI, he also had never picked a J-term class before. 
He decided to take the class because he had already taken a class with Alexander, and he also was curious to see how meditation would work in a course about 3D-printing. 
"It seemed like a class that was out of the box and a class you've never really heard about," Taylor said. 
When it came to picking which object he would print, the idea came instantly. Alexander gave the students the prompt of finding an object that they could relate to and understand on a "deeper level." Taylor chose a leaf. 
"Leaves are a lot more than what they look like from the outside," Taylor said. "A leaf looks like a leaf, of course, but underlying it, a leaf is a main source of food for the plant it is attached to. It's way more than just a leaf." 
Taylor's favorite part of the class is the weekly trips to the temple. He said that he has learned a lot more about the Buddhist religion, but that the class has "barely scratched the surface." 
Alexander teased that he has considered moving the class to be for a full semester, and for Taylor, it is an enticing opportunity. 
"There's a lot more to go. There is so much more to learn about the culture and the religion itself," said Taylor. 
Sarah DeLong, another freshman student in the class, already had significant experience with 3D-printing. In fact, she and her husband, a machinist, already owned a printer. This made picking the course an easy choice. 
"I don't like going into anything that I don't know anything about. I'm not two feet in the water. I'm like, toes in the water," DeLong said. "Since I already knew some things about 3D-printing, it made the whole jump in a lot easier for me."
For her object, she chose to print a cat. She decided it represented her well since cats are known to be mysterious, curious, independent and loyal. 
DeLong said she really enjoys the meditation side of the class.
"My therapist also said that meditation would probably be a good route since I have really bad ADHD and it is actually really helpful," DeLong said. "I don't know if I've been doing it long enough to like see marked improvement, but it is helpful."
She plans to continue meditating after the class ends. 
The 3D-printed objects will be showcased in the Johnson Center for Fine Arts at the start of the spring semester. Part of the class's final project is to create a webpage that viewers can access via a QR code in JCFA. It will explain the student's individual motivation to create said object, while also discussing their personal meditation habits. 
"If they can even just dip their toes into digital storytelling, 3D-printing, website creation and things of that nature, we can pair it up with what we're learning in class," said Alexander. "Then, they will have a skill that they can develop even a cursory interest in, and maybe go forward with something like that, perhaps even in the job market."
From career exploration to fundamental self-care skills, the class enables students to launch into healthy habits that have the potential to continue into the spring semester.