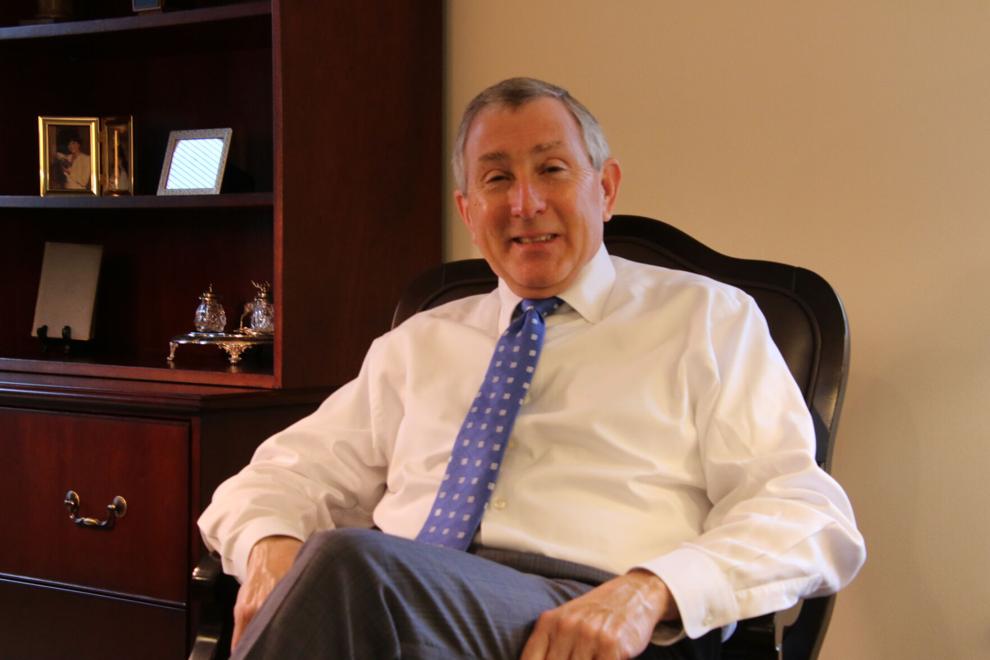 The Franklin Co-Executive Editors Isaac Gleitz and Sydney Byerly caught up with Franklin College President Kerry Prather to talk about the opening of the CTI, J-term, privacy concerns and more.
Read on for a lightly edited transcript from their conversation.
Isaac Gleitz: Well, welcome back to the spring semester. I know we've been in it for a while, but it's the first meeting of the year. So it's symbolic. … So first I want to jump into the CTI opening. How do you reflect on that? How did it go? Any takeaways for the college? 
President Prather: Well, it went great. It was a little delayed, which was for reasons beyond our control, but I think everybody who stepped into the facility that night was wowed by everything that's on the inside, but also the way the outside turned out relative to what we hoped it would do. So the whole point was it shouldn't look like bricks and ivy—It's like the non-bricks and ivy piece of the campus. …
It really is impressive because there just aren't a lot of schools that have that kind of technology with just fingertip access for students. And honestly, I don't know that much about 3D printers. So to watch our students creating those little bears. I mean, there are literally houses being built using 3D technology. We had people kind of trying out the virtual reality headsets, which can take you to foreign travel and to interview settings and all kinds of things in addition to the fun stuff. 
So I thought the whole presentation really was a powerful statement, not just about what it does for our students, but what it says about us as an institution. We really are out on the front edge of this as far as liberal arts schools go. This is a different place for liberal arts schools to venture. And that really excites me in terms of differentiating yourself in the marketplace, which is so important for student recruitment. …
And I think from the standpoint of philanthropy, it is, "Are you really keeping up with the times? Are you the sleepy little liberal arts school doing what you did in the 1970s?" And this is a pretty dramatic statement that no, we aren't. 
Gleitz: And for the readers who read my recap of the article about the CTI opening, I wasn't able to give a good overview of what that building has been in the past because I didn't really find it out in time. Since you've been here for a while, do you have an overview of what it's been? 
Yeah, it was a church, I mean a small church of some sort. I have no idea what denomination. Since we've owned it, it's been a little bit of everything. We had part-time coaches over there for a while. We had exercise science equipment in there, but for a long time it was just a classroom that could seat 30. So you know, you might have a philosophy class over there, an English class over there or whatever. It was just, I mean, literally we called it the annex because it was an extra building on campus for whatever. 
Sydney Byerly: So basketball seasons are wrapping up. How do you think their seasons went, and then with both of the new coaches, how do you think that went too? 
I think I'm looking at it from the 15th row now, so I'm not intimately involved in the day-to-day of it. But I love the energy that the new coaches have brought. And I think when each of them has a chance to get more deeply involved in the recruiting and build the kind of foundation that they want to build for the program, I think we're going to be in good shape with both of them. 
Gleitz: So we have someone working on a web story for us about Griz Link. So the premise of the story is: We've heard from a couple of students that they're confused and a little put back by the fact that anyone on the campus who logs in—which could mean any student—could log in and search their name [of another student] and find out, "Here's their name; here's where they live; here's what year they are." They feel like that's a little too much information for everyone to have access to. So why do we have that? What's the point of it? What are the pros and cons?
I think that'd be a great question for Scott Moore in IT. You stumped me on that one. 
Gleitz: Yeah. Do you understand that concern? 
I understand the concern. I don't spend any time on Griz Link, so I was not aware that that's even—I don't know what's available. So for me to comment on that is completely conjecture. 
Gleitz: J-term recap? How do you feel like it went? 
I am so excited. We started getting feedback from all of the travel study groups all over the world: That's the most study abroad trips we've ever had in motion at one time. Most students we've ever had traveling at one time. And that, pre-covid, was really gaining traction. ... You wonder once it's gone will students jump back on that train when it's available. And I kind of felt like they would, because even in the years where we weren't sure whether it would go or not, the list of students wanting to sign up had still been big. So we're now talking about what happens if you had a couple more trips and even more students engaged. That's heading exactly in the direction that we hoped it would. 
Byerly: So I'm writing a story for this month's issue about Clay Black, a student here who's running for city council. And I was wondering if you had heard about his campaign or what you thought about it? 
I did see his name. I don't know anything about his campaign, but I did see he was going to be a candidate.
Gleitz: Were you pleased to see that we have a Frank Fellow peer running for a public office? 
Sure. I think the message of civic engagement is fantastic. The state of present day politics in this country is not something to be particularly proud of. So for us to have younger students wanting to engage in politics in and of itself is encouraging. So hopefully your generation can do a better job of the political climate than my generation has managed. 
The editors' next meeting with President Prather is scheduled for March 7.