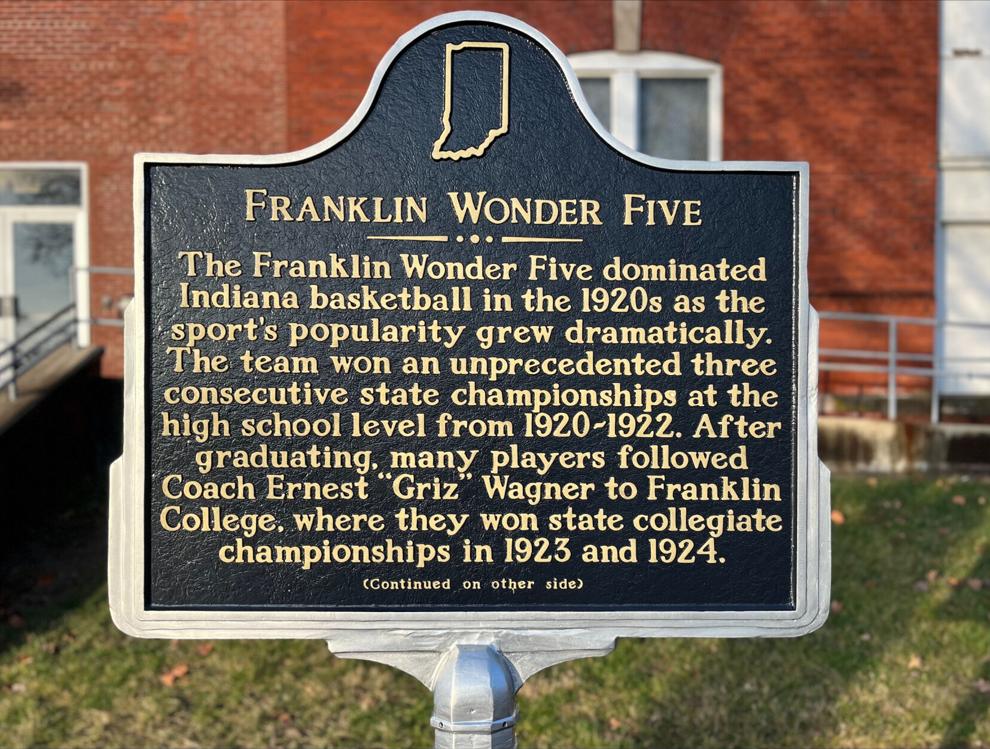 "We grow basketball here," is the claim that hangs up in Gainbridge Fieldhouse where the Indiana Pacers play. 
Indiana prides itself on its basketball culture in a phenomenon known as Hoosier Hysteria. 
Hoosier Hysteria can be defined as the excitement around basketball in Indiana, more specifically the high school state tournament. 
The inventor of basketball, James Naismith, even once said, "Basketball really had its origin in Indiana." So, what made basketball in Indiana such a popular sport?
One immersive term class this year, named Hoosier Hysteria, taught by professor Mark Brinter explores what the hysteria is and what it has meant for Indiana.
The class goes over this part of Indiana's history, which began in the early 1900s and still is prominent today. The class has taken multiple field trips in January, going to some notable places in Indiana basketball history.
"We take a field trip to go see a Pacers game, we went to the Indiana Basketball Hall of Fame in New Castle, we stopped in what they call the Hoosier Gym which is the gym for the Hickory Huskers in the movie "Hoosiers", and we plan on visiting the NCAA Hall of Champions as a good trip this course could take," said Britner.
One reason for the explosion of basketball's popularity is the amount of effort and care put into growing high school basketball in Indiana.
Indiana has nine out of the top 10 biggest high school basketball arenas in the nation. Considering that Texas, California and New York are all basketball hubs in their own right, this is extremely impressive for little ole Indiana. Which, at its core, truly embodies what the hysteria is and represents.  
"Especially in small towns, basketball was huge. A lot of these smaller towns - that was their main entertainment, Friday and Saturday nights going to watch basketball games," said Britner. "It's one of the main reasons why the basketball arenas are so big. It's just what people did. … Smaller towns just had that identity with their basketball team."
Franklin is the epitome of the small-town basketball craze.
During Hoosier Hysteria, Franklin produced the "Wonder Five", one of the best teams ever in high school basketball. The Franklin Wonder Five was the first team to ever win three Indiana High School State championships in a row, winning in 1920, 1921 and 1922.
Head coach Ernest "Griz" Wagner led the squad alongside star player Fuzzy Vandivier to an astonishing 89-9 record through high school. The team continued to play college basketball here at Franklin College, where they went undefeated in their first season knocking off several bigger schools such as Purdue, Notre Dame, Wisconsin and Illinois. 
They won 50 games in a row, including an undefeated national championship run. Their influence on the town of Franklin will never be forgotten, as the head coach's nickname, "Griz," is the reason Franklin College's mascot is a Grizzly Bear. 
"I found it really cool to learn that such a small area in today's terms once ruled over basketball," said junior Zayne Spangler. "I saw that we beat big schools like Butler, IU, Notre Dame and other powerhouses. Also, that a professional team wanted to play us, but the coach said no." 
Even now, Franklin College continues to recognize their accomplishments as the school is working on a documentary for the Wonder Five, completely funded by the Indiana Pacers. 
The Pacers plan to release and air the full documentary and use it as a tribute for Hoosier Hysteria before some of their games. 
The documentary is being spearheaded by John Krull with some help from other members of the Journalism department, and even students from the school. 
Recently, a group of students and staff went to the Basketball Hall of Fame in Springfield, Massachusetts to get some film for the documentary.
"We got to sit down and interview the historian for the museum, so that was cool," said Spangler. "We pretty much just filmed everything related to the Wonder Five that we could see."
Another unforgettable story is the Milan High School basketball team in the 1950s. 
The team hailed from a small school which only had 161 students enrolled in it at the time. Despite this, the squad fought all the way to win the Indiana 
State Championship, beating Muncie Central. 
At the time, the tournament was single class, so a school as small as theirs winning the whole thing is even more impressive then than it is now, and their endeavors are immortalized in the 1986 movie "Hoosiers." 
The legendary Crispus Attucks High School in Indianapolis became the first all-Black school to win the tournament in 1955, after being led to victory by future basketball Hall of Famer, Oscar Robertson.
This love of high school basketball has also bled into the Indiana college basketball scene and even into the NBA. 
Purdue, Indiana, Notre Dame and Butler are all notable programs within NCAA basketball. 
Purdue and Indiana are some of the most storied programs in college basketball history, and even Butler went to a national championship game led by Brownsburg native Gordon Hayward, just 13 years ago. 
There are also 12 current NBA players who were born in Indiana. Indiana has produced a couple of the best NBA players of all time. 
Robertson was the first person to ever average a triple-double (30.8 points, 12.5 rebounds and 11.4 assists) in an NBA season and is only one of two people to do so. 
And how can one talk about Indiana basketball without mentioning Larry Bird? Bird is a three-time NBA MVP and three-time NBA champion—and without a doubt the best ever Hoosier in the NBA.
The culture developed from Hoosier Hysteria has driven many young people from Indiana to pursue their dreams of basketball and continue to show Indiana in a great light by representing it on a national level. 
Basketball was really allowed to flourish here in the state. Without it becoming a cultural phenomenon here, who knows where Indiana would be.
"[Hysteria] has really affected everything about the state," said Britner. "It's not as much as it used to be because there's more things to do, but through the 20th century, basketball was the cultural event. But back in its heyday, everyone had that pride in their school and their hometown."