Tuesday, Nov. 3 at 2:50 p.m — Reporting by Hope Shrum
FRANKLIN, Ind. — For two of the four polling places in Franklin, Indiana, residents showed up before the polls opened at 6 a.m. Both locations remained busy for the first hour, but then traffic slowed down to where there was no line at the Franklin Community Center and Grace United Methodist Church.
At the community center, a table was set up outside with hot cider available for voters who wanted a warm drink in the cold weather. By 8 a.m., 187 people had already voted there.
Richard Wertz, former Franklin city councilman, was the inspector for the community center. He said he's observed a lot of technical problems with people who live at a different address or who have changed their name after marriage.
While his job was to help people in these situations, he said he has a great team of poll workers to manage everyone else. These volunteers include his own grandson, Franklin College sophomore Garret Snyder.
Snyder said that he volunteered to work the polls because his grandfather asked him to help, and it would look good on his resume.
Another poll worker, 16-year-old Chris Holman from Whiteland, Indiana, said that he volunteered to be reserve judge when he heard that people might quit.
"It's a day off school, but I'm actually doing something for the community," Holman said.
At Grace United Methodist Church, inspector Phil Howard said over 400 people had voted before noon. Although the pace slowed down to the point of only three to five polling machines being in use at the same time around 1 p.m.
Kirk Bixler, director of career development at Franklin College, was a poll worker at the church. He has volunteered every Election Day since 2002. He said that Americans have a moral responsibility to vote since it is a right that they have that people in other countries might not.
David Cox, 60, Franklin resident, has been voting since he was of legal age to do so. He said his voting experience Tuesday was good. He walked in, voted and walked out. There was no wait time.
"I feel as Americans, it is our duty to [vote]," Cox said. "I think everyone has a voice. It is our democracy. It's what makes things work."
Franklin resident Becky Harmon, 61, said that she chose to vote Tuesday because she wanted to be "present" when voting, and she wanted to make sure she got as much information as possible before going to vote.
She said the state of the country, and of the world, during the COVID-19 pandemic is her reason to get out and vote.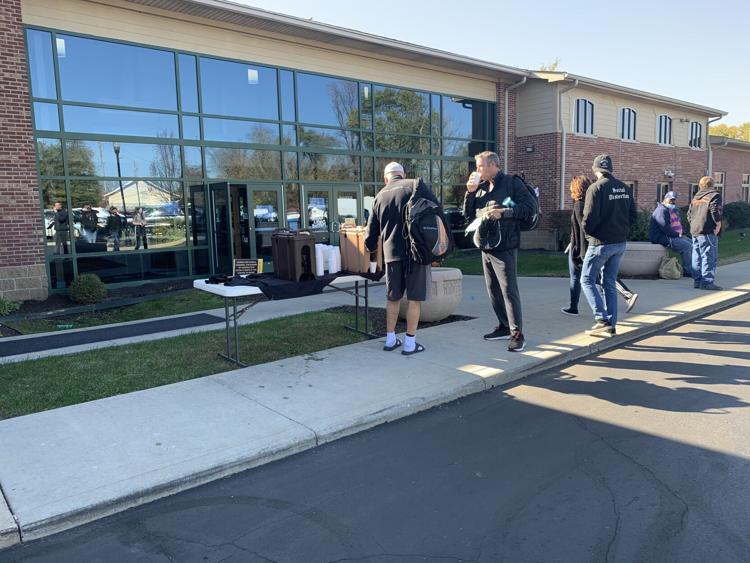 "I have not, in 61 years, ever seen our country so torn," she said. "It's emotional. This was the first time I've ever emotionally voted."
Tuesday, Nov. 3 at 3:00 p.m. — Reporting by Alexa Shrake
While some downtown Franklin businesses like Wild Geese Bookshop were closed to encourage residents to go vote, other business owners discussed election anxiety after Indianapolis businesses began boarding up windows this week.
Kim Brosnan, owner of Benjamin's Scoops and Treasures, said that she was surprised by the possibility of unrest. Indianapolis businesses began boarding up windows this week in precaution of potential riots that could come from the election.
"I don't expect a small community like this to riot, but I was very surprised to see the preparation Indianapolis businesses were making," Brosnan said.
Court Street Cafe Owner Sherry Young said that this year has been the most difficult for local businesses. She hoped that people went to vote, and that when they did, they were thinking about their values and what they want for America's future.
"I vote on my values. I don't look at what party they're for," Young said. "I make sure they are for what I believe in."
Tuesday, Nov. 3 at 3:30 p.m. — Reporting by Alexa Shrake
Outside of the Richardson Chapel on the Franklin College campus, Chaplain Hannah Adams Ingram and sophomore Jarrett Dodson had a table set up inviting students to talk about how they were feeling concerning the election.
"It gives students a chance to slow down and talk about how they're feeling," Dodson said.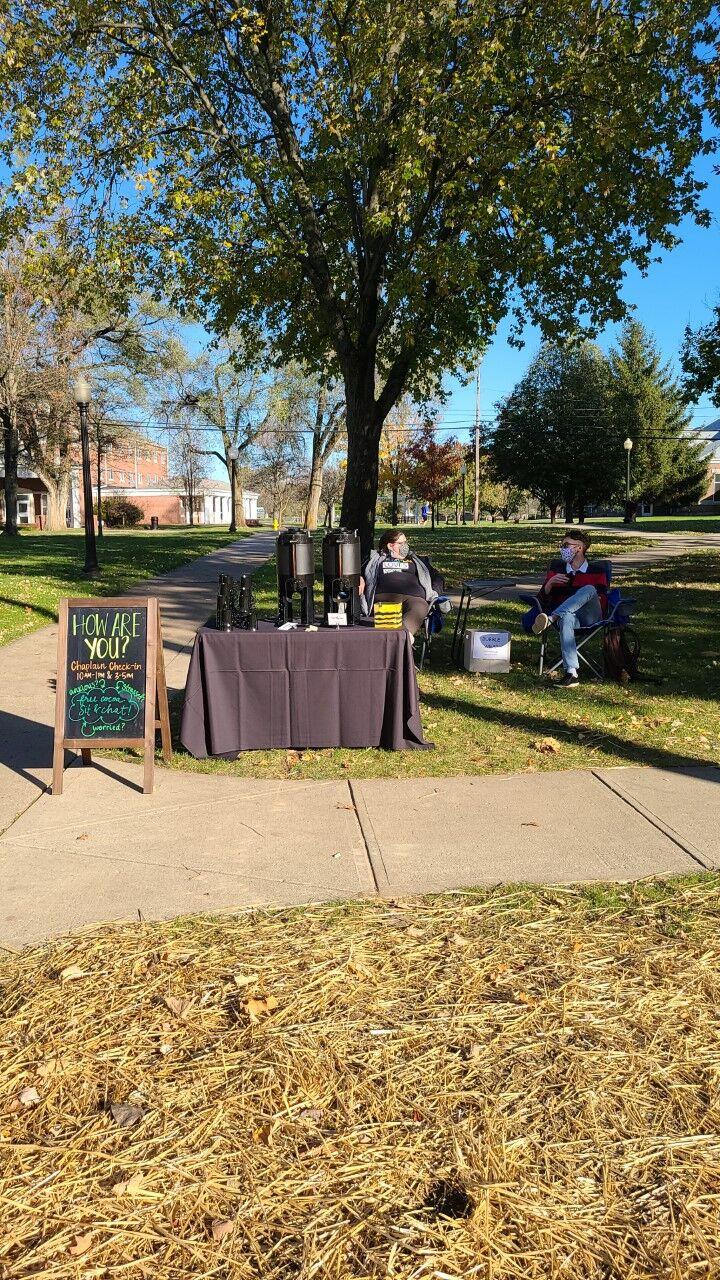 There was hot chocolate for anyone who wanted to talk about their stress and anxiety surrounding the election. Adams Ingram said a few students who met each other for the first time talked together while enjoying hot chocolate.
Tuesday, Nov. 3 at 4:40 p.m. — Reporting by Hope Shrum
At the Scott Hall polling location in the Johnson County Fairgrounds, inspector Angela Turnmire said that there was a steady flow of people throughout the day. Out of their 15 polling machines, only six or seven would be in use at the same time.
She said there wasn't a lot of signage, so not many people knew that they were there.
"It's like the best kept secret in Franklin," Turnmire said. "Because everybody just comes through, and they're voted within, like, two minutes."
She said there were a lot of first-time voters, including a 91-year-old woman. Turnmire was very excited about the amount of people turning out for voting, especially all of the younger people and first-time voters.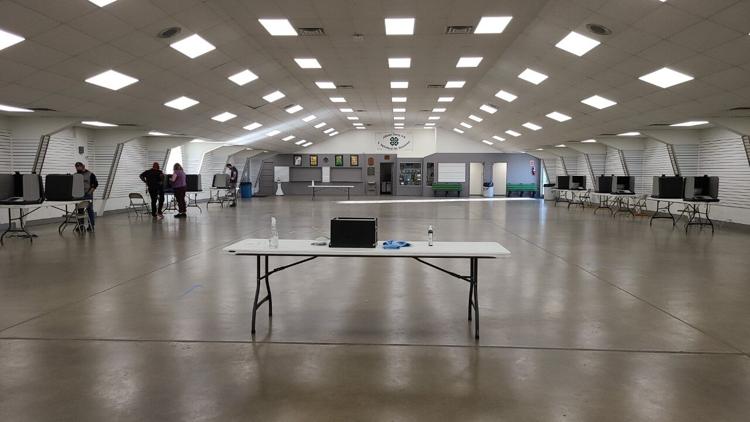 Along with the other polling sites in Franklin, Turnmire said the one at Scott Hall also saw a lot of people with address changes.
Franklin resident Crystal Lorance, 28, said voting is important for people to get their voices heard for the changes they want to see. She found time in her busy schedule as a home health nurse to "do [her] part" by voting.
Tuesday, Nov. 3 at 5:15 p.m. — Reporting by Hope Shrum
The Franklin Community Center still had no line. People were entering, voting and leaving the site in just minutes.
Felicia Pace, 30, Franklin resident, said she voted on Election Day because so many people had voted early that the lines weren't as long.
"I'm just doing my American duty," Pace said. "It's your voice. It's your part. It's better than just sitting around doing nothing."
Around 5:40 p.m., a woman, still in her car, asked how long the wait was. When told there was no line, the woman ran into the building, voted and ran out as quickly as she could.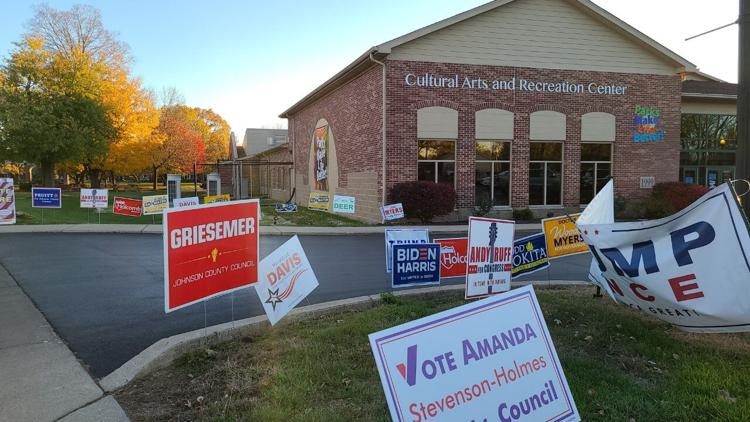 First-time voter Franklin resident Josh Campbell, 21, said he didn't go to early voting because he "wanted to see what the hype was about on the actual Election Day." While it didn't live up to the "hype," he said that his first time voting was fast and easy, a positive experience.
"If you have an opinion, you should definitely get out and [vote]," Campbell said. "It can only do good for the country overall."
This is a developing story and will be updated.