In a time where virtual learning is prominent, academic dishonesty—and student stress—is on the rise.
Sophomore Emma Arcand said that remote learning posed unique challenges last spring when Franklin shifted to online learning. In her Spanish class, she searched the internet to translate an unknown word. Hours later, she got an email from her professor to notify her this was her one and only warning against cheating. She received a zero on the assignment.
"It was frustrating, and it was hard to stay motivated after that," Arcand siad. "I felt like every assignment I did, I had to almost walk on eggshells."
Cheating was gaining traction, even before COVID-19. The Canadian Broadcast Corporation, a leading Canadian news network, found that there are many online companies that help students write essays and provide them with test answers for profit.
The Guardian found that even top universities in the UK, like Oxford and Cambridge, saw a 40% increase in cheating cases between 2014 and 2017, which experts attribute to the emergence of these contract cheating services.
The International Center for Academic Integrity, which combats academic dishonesty in higher education, found that students' stress levels have risen during the pandemic. This is especially true among students who have taken electronically proctored exams, meaning they had a third-party individual watch them through their webcam while testing. Many say that this is an invasion of privacy. According to the ICAI, electronic proctoring makes students uncomfortable, and many have felt nauseous and vomited during their exams.
ACADEMIC LEADERSHIP
As the acting vice president of Kristin Flora oversees everything academic at Franklin, from the curriculum to off-campus internships. In the fall semester of the 2019-2020 school year, four cases of academic dishonesty came across her desk, compared to 34 this past fall semester. These cases were distributed evenly across departments with a slightly higher number among the freshman class.
The rise in cases likely resulted from remote learning paired with on-campus living, Flora said.
"With the shift to remote learning, there are more temptations to engage in academic dishonesty," Flora said. "Your roommate is right there."
Flora said stress has long been the most common reason for cheating. Stress is caused by the hormone known as cortisol, which she has discussed with students as a former psychology professor. It narrows people's ability to see beyond a short-term time frame.
"When you make decisions under stress, they often aren't good ones," Flora said. "You're thinking about in this moment in time I need to get this assignment done—I need to get a certain grade."
Franklin's Information Technology department is offering Moodle Safe Exam Browser and Examplify, programs that lock students out of internet use during exams. Last spring, five classes took advantage of the services, and the number increased to eight this past fall. Professors can request them at any time.
Flora said that Franklin is not paying for a subscription to any electronic exam proctoring service because it would be an invasion of students' privacy.
"I feel comfortable with the two pieces of software we use," Flora said.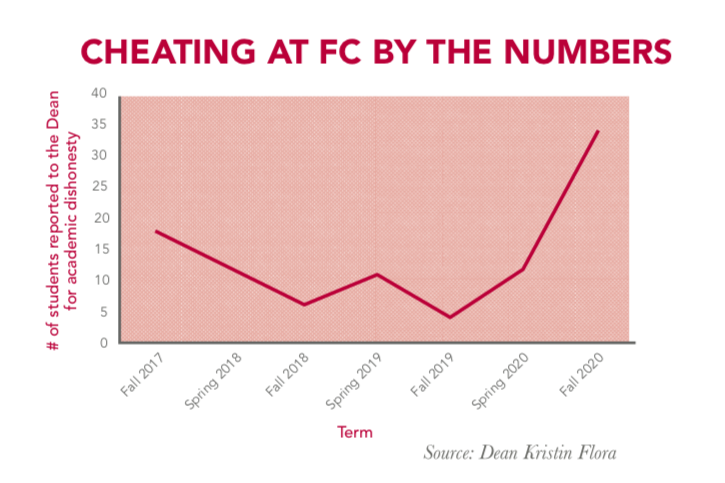 PROFESSORS' THOUGHTS
Angie Walls, professor of mathematics, said that while academic dishonesty
is always a possibility, cheating in her classes has not increased since the pandemic started. At least one person per year turns in an Excel file that is not their own. This is often done to escape a tough situation, she said.
"I think they get desperate," Walls said. "They feel backed into a corner."
Another math professor, Justin Gash, designed his own problems to combat cheating.
"I do spend a significant amount of time trying to make my exams, on the front end, harder to cheat on," Gash said.
Still, Gash said his system isn't perfect. Cheating still occurs, and when it does, it is harder to prosecute because professors can't police the web like they can a classroom. Every year, he reports a handful of his students to the dean for cheating, and that negatively impacts the college's learning community.
"It concerns every faculty member regardless of the department because it defrauds the work that we do and the mission of the college," Gash said. "We can't help people learn the material or get better if we can't recognize there's actually a problem."
Like Walls, he said that shared files are the biggest problem in his classes.
"Virtual learning does not help that," Gash said. "Sending stuff electronically or digitally all the time—sometimes it's even a matter of what's perceived to be necessary conversation."
Gash does not require honesty statements from his students, but he sees the benefit of them. They make cases of cheating less messy during the investigation process, he said, because they prove that any given student understood the rules.
Computing professor Kerry Smith has a different approach. He trusts his students not to cheat. They connect to a Zoom meeting during exams but keep their webcams off to avoid undue stress and an invasion of privacy.
"If someone were secretly texting somebody during an exam and sharing answers—unless I confiscate their phones—I would have no clue," Smith said. "In the classroom it's easy, but online it's impossible."
Smith looked into using the secure browsers offered by the IT department, but he knows that his students could find ways around them given their field of study.
"We talk about things like network security and hacking," Smith said. "They know the software, and they know how they can get around different obstacles."
Benjamin O'Neal, professor of biology, has also employed a hands-off approach. During virtual learning, he has relied more heavily on students' integrity.
"Trust between the student and the instructor is essential," O'Neal said. "The more connected a student and a group of students is to their major and to their professor, the less likely they are to cut a corner because there is personal accountability."
O'Neal said he wants to be aware when his students cheat, but teaching is a higher priority.
"It would be poor stewardship of my bandwidth as an instructor if I spent all my time policing student integrity," O'Neal said. "I would rather focus on helping the 98% of students who are invested, than trying to police the two percent who are in the business of cutting corners."
Like O'Neal, Walls said that cheating complicates the lives of students. Punishment for an initial infraction ranges from a zero on the assignment or test to the deduction of a letter grade in the class. If a student recommits the offense, punishments include suspension or expulsion.
But one shouldn't forget the professors, Walls said, because proving academic dishonesty is an arduous task.
"It's a ton of work to catch somebody cheating. You have to do so much documentation," Walls said. "Students will thank themselves later if they accept a zero on an assignment. That would save both students and teachers a lot of hardship."