Through an uncertain summer of anxiety and fear caused by the coronavirus pandemic, Franklin College administrators were persistent.
President Kerry Prather released the Fortify Franklin plan Aug. 3, which encompassed all of the mitigation protocols and new rules for campus. This plan outlined everything from cleaning and mask-wearing guidelines to isolation and quarantine procedures.
Then, Aug. 17, Prather hosted a virtual town hall to answer students' questions. The college's COVID-19 task force joined him in this town hall. Prather said students would have "the Franklin experience," even if it does not look the same as years past.
Prather said that student compliance to following guidelines set in the fortify plan would be the key to returning safely.
"The plan works in large measure consistent with the degree to which students make it work," Prather said during the virtual town hall.
While Franklin College did not do entry testing with athletes like some other colleges and universities, Dean of Students Andrew Jones said the college tested the women's tennis team, who were the first to arrive on campus.
"[It was to] basically practice our surveillance testing process that we are going to do with much larger groups later on in the semester," Jones said.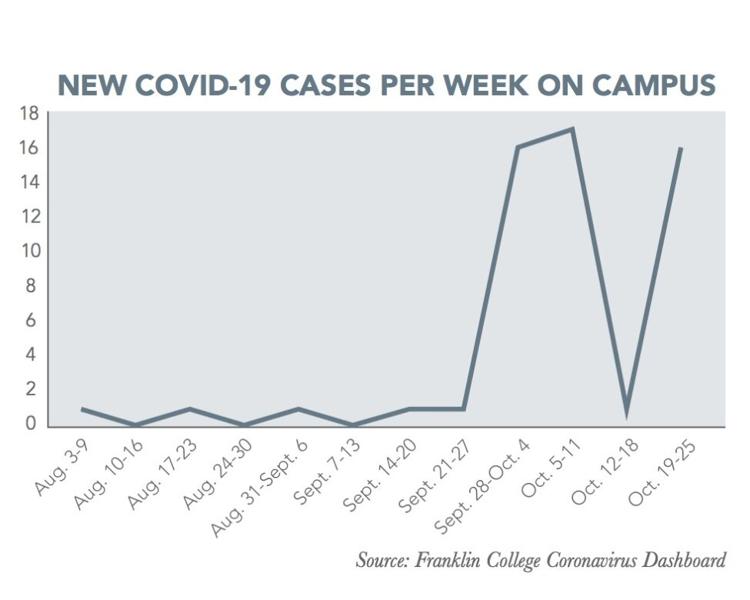 The athletic department conducts this surveillance testing per NCAA protocol,
which entails random testing of at least 25% of student-athletes that are practicing in a given week.
Each week, the COVID-19 dashboard on the college's website is updated with new cases. From the beginning of August to late September, no single week yielded more than one new case. However, the second round of surveillance testing in the athletic department found 15 positive cases from just 73 student-athletes tested.
Up until the week prior, only students and faculty who had symptoms got tested on their own. The first round of surveillance testing only saw one positive case from 45 tested athletes, but just a week later, the testing showed a 20.5% positivity rate.
The Night News Broke
The 73 student-athletes were tested on Sept. 30, and everything changed late in the evening the next day, Oct. 1.
Kat Dennehy, associate dean of students, is in charge of residence life on campus. After only starting her job here at Franklin the week prior, she was thrown into handling a cluster of cases outside of business hours, which is when residence life takes over for the nurse.
Dennehy said that the student development department were anticipating not knowing what to expect from the test results. They had no idea what the number was going to look like, she said.
After they were notified of the results around 8 p.m. that night, Dennehy worked together with Jones, Russ Norris, assistant director of residence life, and Kalyn Johnson, residence life area coordinator and diversity and inclusion program coordinator, to start making the necessary calls to positive students and their roommates.
One student, junior TJ Cox, received his call at 9 p.m. while he was at a restaurant with some friends. He immediately had to return to his room, pack his things and head to one of the college's isolation rooms in the basement of Cline Hall.

Dennehy said it was a plus that they have become accustomed to working remotely because that night, they all worked on a shared document, which made it easier to see everyone's progress as the calls were made.
"I think that as we continue to do this, we're only improving our processes and helping our communication to students," Dennehy said.
Steve Leonard, director of security, said security's job that night was to turn off students' ID card access to campus buildings after they left or made it to their quarantine or isolation room on campus. Residence Life and the health center notify security when a student is going to quarantine or isolate.
The time allotted for students to pack their things and leave before their ID card is turned off is determined by the student development department and the student, giving them as much time as necessary while trying to get them situated as soon as possible.
Several students who went into quarantine or isolation as a result of that first cluster said they were told they had an hour to leave when they got the initial phone call.
Security will turn a students' card access back on the day before they are allowed to return in case they live far away or would like to get settled the night before, Leonard said.
Between August and Oct. 20, security had to turn off around 150-160 students' ID card access due to a new quarantine or isolation.
On Oct. 2, the morning after the cluster of students tested positive, several other students found out they were in close contact with positive students. They had to return home or temporarily move into in a quarantine room in the Hoover Hall basement soon after they found out.
And even if those exposed students produced a negative COVID-19 test within a few days, they still had to complete the two-week quarantine before returning to regular campus life, Jones said.
"Because of what we know about the virus and the incubation period, a negative test doesn't necessarily mean that you wouldn't test positive again in two or three days," Jones said. "So, we really do have to wait for the duration of the quarantine period, to ensure that if they were exposed to the virus, that they're no longer susceptible."
The After Effects
Prather sent an email to students Oct. 2, announcing that in-person activities, including athletics, were canceled and all classes were moving online for the following week, Oct. 5-9.
Prather said this decision wasn't to slow down the spread, but rather, it was to make sure the school wasn't dealing with a larger problem while they "retrieve better data."
The college wanted to determine if this incident was an isolated cluster, or if it was part of a larger cluster. Prather said it just turned out to be isolated, so classes returned to in-person, and athletic activities resumed with a few restrictions after that single week off.
During that week off following the first cluster, another 151 athletes were tested, and 13 of them were positive, an 8.6% positivity rate.
According to the COVID-19 dashboard on the school's website, there were 16 more cases the week of Oct. 19- 25. That brought the total to 55 positive cases since early August, but 50 of those cases were in the last four weeks alone.
After students returned to classes and in-person activities, the school announced that the surveillance testing was going to start including non-athletes as well. Jones said the college will try to test about 50 non-athletes and 100 athletes every two weeks.
During this first round of widened surveillance testing, Prather said 194 students were tested, 49 of them being non-athletes. He said that 13 positive cases came from this random testing, resulting in a 6.7% positivity rate—about the same as the rate in Johnson County that week.
"We were at about 8% a couple weeks ago, when we came back to campus," Prather said. "The news got better in terms of positivity."
Some confusion and concern arose when the random sample of non- athletes got tested. There was a space on the form they needed to fill out that asked whether the students were paying themselves or with insurance.
Several students were upset, thinking they had to pay for a test they didn't have a choice in taking. However, Jones said this was a misunderstanding, and that if a student did not have insurance or their insurance didn't cover the test, then the school would pay for the test through the funding they received from the Coronavirus Aid, Relief and Economic Security Act.
While students are required to get a COVID-19 test if they are selected for random testing, they do not have to go through Franklin College. Jones said that if a student provides a negative test from the same timeframe that the college offers tests, then that documentation will qualify for the student's mandatory test.
Testing sites across the state do not charge Hoosiers for tests, and insurance is not required.
Prather and Jones both emphasized the importance of continuing to follow the Fortify Franklin plan. They each said that even after these clusters have emerged, there is no need to change the plan as it is.
"I think we're... acknowledging that this is an ever-changing environment," Jones said. "So, I think being nimble and responsive and continuing to stay active and researching what's going on..., reaching out to colleagues at other institutions to see if there are ways to improve or alter our current situation, all of that's a prudent response."
"This was never going to be a zero incidents. Anybody that set the bar there was just being unrealistic," Prather said. "The effort of the Fortify Franklin plan, from the beginning was mitigation, not elimination."