Angela Jackson-Brown, a published author and professor of creative writing at Spalding University, propelled her voice throughout the student center atrium in an event entitled "The Power of Spoken Word."
Members of the English department, Black Student Union and Apogee—Franklin's literary journal—filled several rows of seats alongside their peers who attended the event for fun. 
Senior Maya McCloud shared some of her work before the guest speaker. One of her poems,  "082373," expressed the sentiment that trying to please others with one's academic achievement is a shallow goal. It also explained how mentally degrading and dehumanizing factory work can be. 
"You said you might be happy when I get my bachelors. And when I get my doctorate, you may shed a tear," Maya read reflecting on the power and occasional inutility of encouragement from others. Then she introduced Jackson-Brown and gave her the podium. 
Before reading some of her work, Jackson-Brown explained some of her life to the audience for context. She suffers from trauma: She was adopted but not loved by her adoptive mother. Jackson-Brown was also abused, although no one believed her. 
She wrote her first book at age four, her family members remind her, and many of the early stories were about her "wicked" mother. 
Jackson-Brown read an excerpt from her book, "Drinking from a Bitter Cup," that ushered the crowd into reverent silence. It's a first-hand account of when her mother died by suicide in 1978. The excerpt sounded something like this:  
The protagonist, Sylvia, hears her mom call her and say she needs help, so she starts a bath. She's been through this before.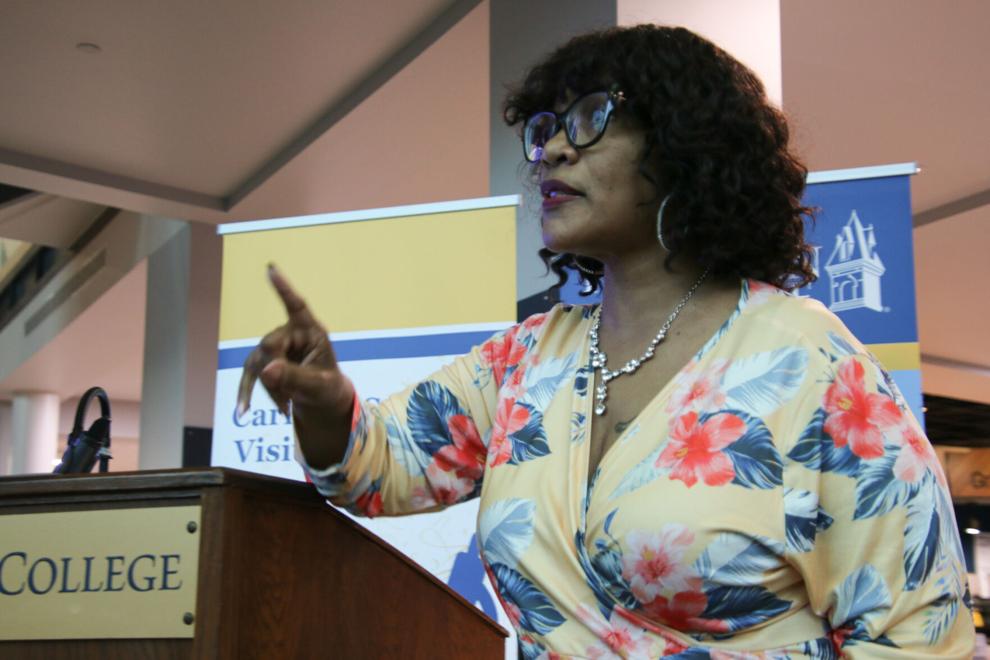 "I'll take care of you momma. I promise," Syvia says. 
She washes her mom, who calmly asks her to fetch her vodka and meds. She does it, although she is promptly stung with guilt for contributing to her mother's pain.
"Mama has cheated you out of your childhood," she responds.
But Sylvia loves her mother anyway.
"Don't love me too much—don't love anyone too much. You understand?" the mother says.
She gives her daughter a jewelry box filled with the only possessions she owns: some assorted mementos. Then she strokes her daughter's face and tells her she's beautiful. 
The only sound in the room when she finished the excerpt was some boisterous pool players in the nearby games area. 
In her other poems, she described country folk who were "pecked by the beak of Jim Crow" and recounted familial warnings about the neighbors about who burned crosses. These stories were cemented in her brain the moment she encountered them. 
"Most of all, I am a storyteller who is tied to other proud storytellers whose stories I carry in my belly like unborn babies waiting to be born on the day when emancipation comes," Jackson-Brown read. 
In her reading of the poem "Dark Child," she relived the experience of asking her mother why being so dark-skinned is such a problem. Jackson-Brown asks what's wrong with her and her mother replies that her hair and her skin are too dark. 
"I never thought you'd be so black," the mother remarks in the poem.   
Jackson-Brown's penultimate poem reading was her work titled "I must not breathe." Before diving into it, she explained that it was an unpacking of her reaction to hearing of George Floyd's murder. Floyd was killed by a Minneapolis police officer in May 2020, partly because of undue application of force. 
The emotions she feels after hearing about a murder are unshakable, and she said mass shootings are a constant reminder that murder is part of our society.  As of mid-February, there had been 67 mass shootings—defined as four or more people shot—in the U.S. in 2023, meaning there had been more shootings than days of the year thus far. She feels pain after every one, she said.
Jackson-Brown started to read.
"I must not breathe," the poem opens. 
If stopped by a police officer, she should ask no questions. She should be compliant (even if the requests violate her civil rights). She should not move. 
Her fate depends on the mood of the cop on that particular day. 
She asked the crowd to join her for the final refrain: "I must not breathe."
Post-reading Q&A session
After the readings, Jackson-Brown said she focuses on the negative only so that she can process it and plan positive change. 
"History is not here to depress us," Jackson-Brown said. "It's really here to inform us, to enlighten us, to shed a light on where we're trying to go that's different." 
She said her generation has ignored several societal issues, but she implores the newer generations to fix them so they can "write poetry about trees and flowers and nature walks, as opposed to you all having to write about the same old stuff that I'm talking about."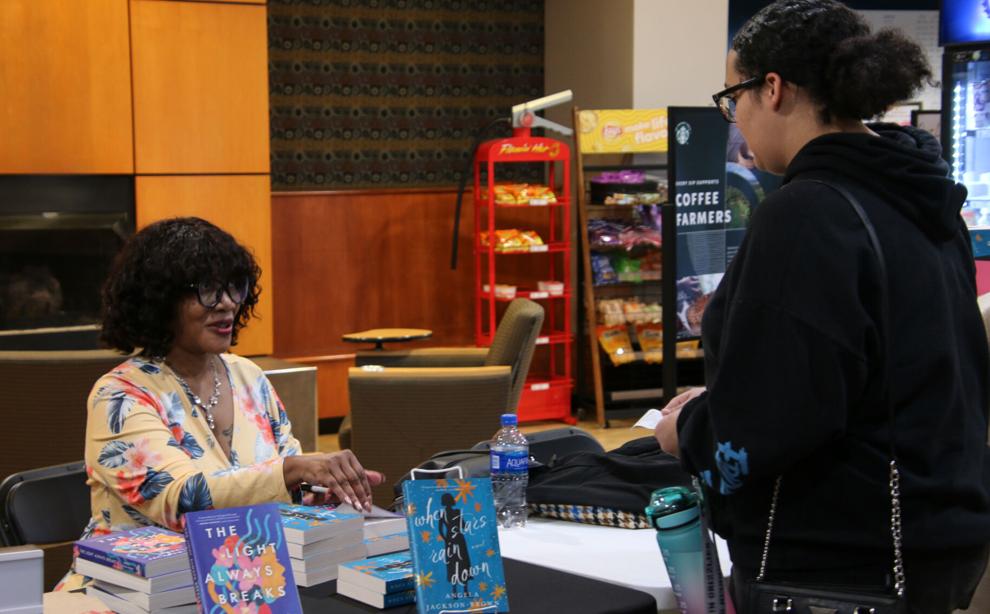 One student asked her how she deals with writer's block, and she said she's never had it. We all have stories, and we pass them like a baton, she continued. She handed a student in the front row an imaginary story and asked them to pass it to the next person. 
"Don't drop it," she said. 
"Stories in my mind are everywhere. My problem is: Am I going to live long enough to tell them all?" she wondered. 
Crowd reaction
Sophomore Kassian Frey said the event impacted them deeply because poetry is intimate material that someone has chosen to share with others. 
"To me, poetry has always been very personal. She's giving us just one look into her perspective and her feelings," Frey said. "It's just so much deeper than saying, 'I feel sad.'" 
Frey is taking the African American Literature class taught by English Professor Emily Banks, so they understand the emotion behind a lot of the internalized racism that Jackson-Brown depicts. 
For them, hearing "I may not breathe" was an intense experience. 
"It really resonated with me because of how she was explaining the amount of steps that African Americans have to take in order to be safe from law enforcement," Frey said. "The one line where she said, 'I must be prepared to die' multiple times really took my breath away." 
"It's a terrible reality that people have to face," they said. 
The college's final event in honor of Black History Month is the Graphic Novel Launch, which will be held Saturday at 7 p.m in the Richardson Chapel. It will be an unveiling of author Adrian Matejka's new work and the first ten students to arrive will receive a free copy of the book.